Fine Dining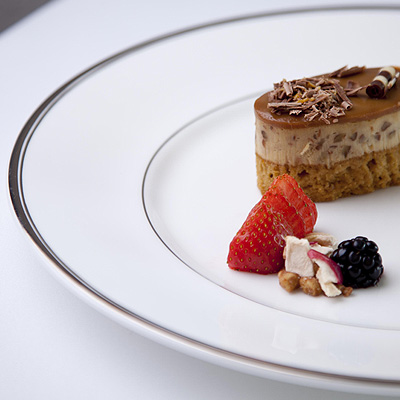 Walpole's fine bone china shapes have been designed with the needs of luxury fine dining at their heart. Our comprehensive collection is appropriate for both traditional and contemporary interiors, catering for every occasion from lunches to afternoon teas and from breakfast to elaborate formal dinners and banquets. Walpole can also create new shapes for clients as and when required.
We manufacture exclusively using our own bone china body recipe. Bone china has more intrinsic strength weight for weight than any other ceramic body and is renowned for its whiteness, translucency and outstanding durability, making it the perfect palette for food presentation.
The in-house collection of shapes can be supplied in elegant pure white or can be customised to suit individual styles. Walpole offers a full bespoke service so any design is possible from a simple edge line or badge to a fully customised border decoration.
Walpole prides itself on offering an efficient and high quality service and a quick turnaround both in initial orders and in providing replacements service.