Environmental Ethos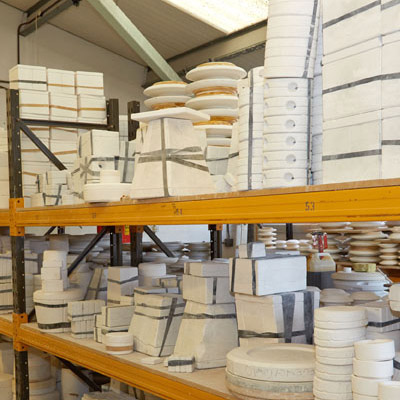 There are many confusing messages in the market place regarding country of origin where the word England is often used inappropriately. Walpole designs and manufactures all its products in Burslem, Stoke-on-Trent.
Ingredients used in making ceramics, from the bone china body to the enamel colours and lithographs used in decoration, as well as the custom designed packaging are all sourced from and prepared by local suppliers.
Pressure casting using dyes is a very efficient production technique and is used as the preferred manufacturing method wherever possible. It removes the need for plaster moulds and with it the waste that would go to landfill. For example one dye can make over 20,000 dinner plates whereas traditional casting methods would demand over 3.5 tonnes of plaster of Paris to make the moulds which would then end up as waste.
Firing china demands intense amounts of energy to raise the kiln temperature to the required level, therefore Walpole use suppliers who support renewable energy and residual heat generated within the kilns is recycled into the factory as much as possible.
Our selection process is extremely rigorous which generates a level of secondary product. Where appropriate we donate these to local charities or in the case of bespoke items they are destroyed.